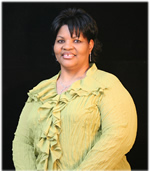 First Lady

Apostle Teresa Smith
303 South 11th Street
Gadsden, AL 35901
Phone:

(256) 547-7149
Teresa Dolois Smith was born to Fannie Davenport and the late Charles James Munford on July 22, 1963 in Queens, New York. She received her primary and secondary education in Cedartown, GA. She attended college at Floyd College in Rome, GA.
Teresa is certified as an addiction counselor and Domestic Violence Specialist. She has worked extensively with at-risk and troubled youth, pregnant and postpartum substance abusers, and homeless women. She served as Executive Director of "Our House," a shelter for battered women in Cedartown, GA, and currently serves as Executive Director of "The Covenant House," a transitional shelter for homeless women and their dependent children; which was founded by Pastor Willie J. Smith, Jr. in 2005. She also serves as Director of New Covenant Ministries.
Teresa is the founder of "Women in Covenant" women's ministry and also serves as an elder and pastor at New Covenant Church. She works along side her husband in every aspect of the ministry.
Elder Teresa and Pastor Smith were united in holy bonds of matrimony on October 14, 2000 and have six children: Terell, Joshua, Lashunda, Jason, Jocelyn, and Brandon.